The organizing team of the Degrowth Summer School Barcelona and Research & Degrowth are excited to present our "Degrowth Talks – Unmuted" webinar series, as a continuation of the "Degrowth Talks – NoBackToNormal" series organized by the UK Degrowth Summer School. In this series, we aim at bringing degrowth in conversation with other transformative movements and practices to jointly reflect upon current struggles and strategies. Now more than ever we need to think about ways of building alliances for a more environmentally and socially just future!
Webinars will be available to follow live-streamed or afterward on the new Youtube channel of Research & Degrowth. Everyone is more than welcome to join the live-talks, as we do not require any payments and registration.
In Talk 1, "Global Protest – Another World Is Still Possible" presented on July 9th,  our invited speakers Donatella della Porta, Gabriela Cabaña, Hala al-Karib, and Sara Fromm discussed recent mobilizations for democracy and socio-ecological justice, their strategies, ideas, and challenges. Presented perspectives include the climate justice and degrowth movements in Europe, the anticapitalist and feminist mobilization in Chile, the Arab Spring and women's uprising in Sudan, and a reflection on social movements in times of the pandemic. What are the possible pathways towards building new alliances?
On July 16thwe presented our second webinar "Community Organizing for Solidarity" with Boaventura Monjane, Jamie Tyberg, Madhu Bhushan and Raquel Lima. The pandemic has revealed the need for solidarity networks that address the vulnerabilities of specific groups, often unprivileged in a context of institutional, economic or environmental injustices. This panel will be a conversation between grassroots organizers based in India, Mozambique, Portugal and the United States. We will reflect on the experiences of anti-racist and women'sorganizing andcommunity initiativesagainst economic injustice and forfood sovereignty,  as well as their role in building solidarity within local realities or transnationally. In doing so, we want to highlight the role of informal care networks and give voice to grassroots activists who  put "solidarity" in practice.
Talk 3 will be LIVE on July 23rd  "Climate and Intersectionality: a realigned discussion about climate and environmental justice" with Houria Djoudi, Tonny Nowshin, Majandra Rodriguez Acha and Mithika Mwenda. In a discussion that brings together academia and activism, we will reflect upon how gender, race and class relate to the climate crisis and environmental destruction, and on how colonial continuities manifest in both the climate movement and mainstream environmental discourses. These different types of violence cannot be seen in isolation, intersectional issues require an intersectional response. How is neo-colonial extractivism and patriarchy challenged by the groups it invisibilises?Can degrowth align with decolonial, intersectional climate movements and support powerful inclusive narratives?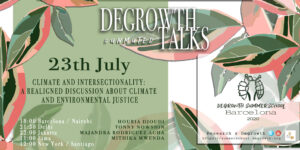 We are keeping our Facebook and Twitter accounts constantly updated, so stay tuned!
Degrowth Summer School Barcelona team 2020
degrowthsummerschool@tutanota.com